Perfect Packed Lunch Ingredients
Friday, 8 September 2017
Whether you're packing lunch for yourself or for a family member, it can be difficult to cultivate the perfect meal idea in the morning. It's mostly due to fatigue, stress and the fact that most of us prefer to use as little time as we can getting ourselves (and the children) ready for the day. Don't try to deny it!
This is the reason why we've rustled together some awesome meal ingredients that are either quick to make in the morning or that are great to whip up and refrigerate the night before. So let's get scrolling!
Pasta
A dish that is both diverse and easy to make at any time is the pasta dish. No matter if you choose tomato, tuna or chicken pasta, you can choose to either eat the dish warm or snack on it cold. Simply cook the pasta, add your chosen ingredients (onion, tuna, sweetcorn) and pack into a snack box ready for lunch!
Top Tip: Choose Penne or Fusilli as your pasta as these are easier to eat when on the move and are quite cheap to buy.
Rice
This is a somewhat controversial ingredient to choose, because reheated rice has the chance to cause food poisoning. So these little grains of food make a great lunch for those with a fridge to store it in. A bit of a faff in the morning, we'd suggest cooking this meal the night before (leaving it to rest at room temperature no later than an hour) and storing it in the fridge right up until reheating.
Top Tip: Cous Cous works just as well as any other rice and is a great summer choice.
Salad
We all know at least one person in the office that enjoys a salad at lunch whether they're on a diet or just enjoy a good crunchy lettuce. It's not an unusual office meal, however, we believe that some vegetables are an optimal choice and that some are a hindrance when making a salad to store in a lunch box. Avoid watery foods such as cucumber and tomatoes (uncut cherry tomatoes are fine) as these will drown your lettuce making it soggy and avoid strong flavoured foods such as beetroot and pickled onions as the flavours will transfer to other foods making the overall salad boring.
Top Tip: Use fresh ingredients and make this meal yourself in the morning to ensure that the lettuce doesn't wither and discolour.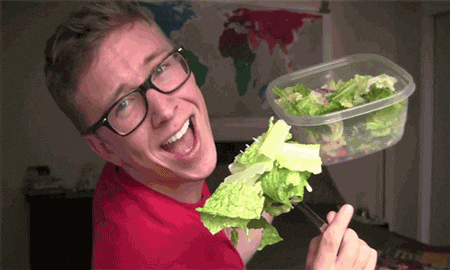 Sandwiches
The most common packed lunch for children, sandwiches are quick and simple to make in a morning. All that is needed is bread, butter and a hearty filling and BINGO… lunch is ready! If you have some spare time, cut the sandwiches into triangles before placing in the designated sandwich box.
Top Tip: Why not save some chicken from your Sunday Roast to use as a sandwich filling the next day? Just be sure to store and refrigerate it as advised.
Soup
A hearty dinner for the winter weather, soup is a brilliant choice for keeping warm when the temperature drops. Another versatile meal you can choose to enjoy your soup; warm or cold, homemade or from a tin, heated just before eating or just before leaving home (if you use a Pioneer soup flask, of course). The possibilities are endless.
Top Tip: If you've made a large batch of home-made soup, why not fill a weeks' worth of food flasks (and/or other containers) with the soup to have your daily lunches prepared in advance.
Finger Food
Mainly for those that prefer to snack consistently throughout the day rather than just at lunch break (and for those fussy eaters) finger foods are the perfect option. As there are so many finger foods to choose from these days, you'll be spoilt for choice just deciding what to pack. We reckon that the best finger food options are cheese sticks and raisins with a sausage roll or pork pie plus a yoghurt and apple for dessert.
Top Tip: We suggest packing a wide variety of food items, like the above, that are small in size but large in quantity. This means that if you're a picker, you've got lots to snack on without the dreaded fear of having nothing left for lunch!
What type of lunch packer are you?